Sauna Components
---
Sauna Packages
Precut Sauna Packages – FPC
All Finlandia material packages are made to order.  Our precut packages are intended for use in a space that you have framed and insulated.  Anyone with a general carpentry experience can build a Sauna out of your FPC parts. Supply us with your interior stud to stud dimensions and we will supply all of the interior room parts.  Nail our 1" x 4" tongue and groove boards to your studs: our boards will run horizontally.  We cut the material and build parts to fit your room: we don't just supply a pile of lumber and unassembled pieces.
FPC Packages Include:  (SEE SPECIFICATIONS IN OUR BROCHURE)
Precut wall * Ceiling Boards
Prehung Clear Glass Door
Assembled Headrest/Backrests
Super Dek or Eurodek
Peridotite Stones
Light
Accessories
Instructions
Assembled Benches
Assemble Heater Fence
Trim and Base
Finlandia Heater
Control / Contractor
Vents
Type C Building Foil
Fasteners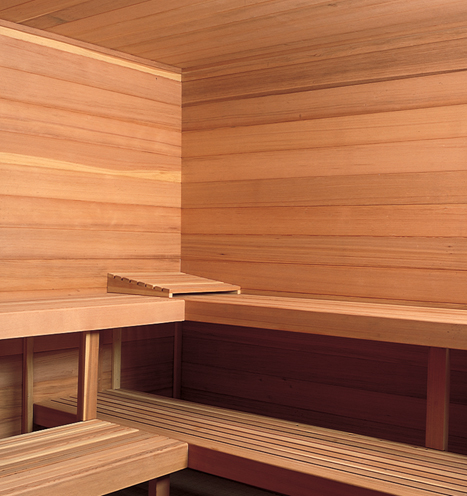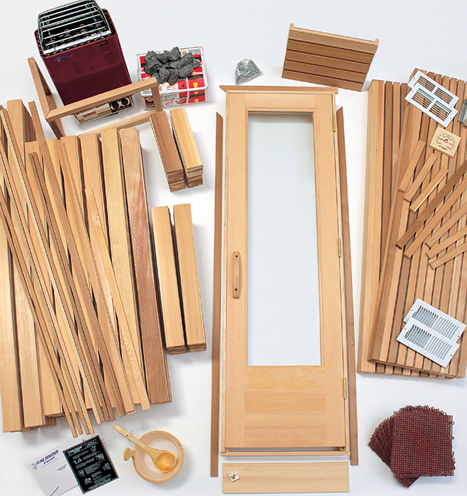 ---
Prefab Modular Saunas – FPF
Our prefab Saunas are engineered with effortless and fast installation in mind, and can be installed on any level, hard-surfaced, waterproof floor. Our unique interlocking design makes other modular systems obsolete by comparison. Electrical hookup is made easy because all electrical conduit is sealed within the walls, and control box (where necessary) is premounted. Engineered for highest economy, with an R value of 13.5 (exceeding other modular Saunas on the market). Our prefabs are also designed with 2 vents to allow a natural exchange of air for comfort and fresh air supply for the bather. Our Finlandia prefabs are not only designed for the best function and eye appeal, but are manufactured with "old country" craftsmanship – we craft each room like a fine piece of Scandinavian furniture.
Framing
Vapor Barrier
Exterior Siding
Exclusive Concealed Locking System
Assembled Headrest/Backrest(s)
Heater Fence
Vents
Trim
Stones
Instructions
Insulation
Base
Interior Paneling
Benches
Prehung Clear Glass Door
Super Dek or Eurodek
Light
Finlandia Heater
Accessories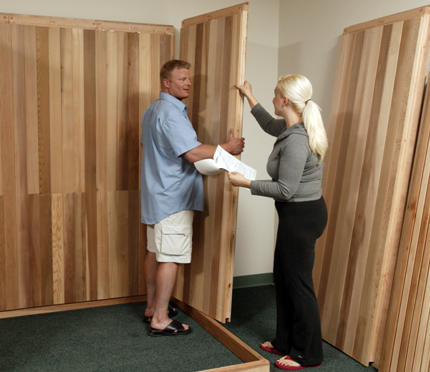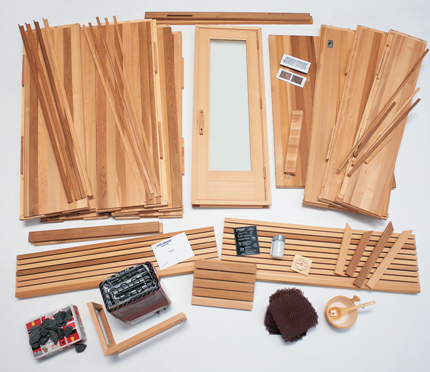 Back to Top ↑
---
Sauna Doors
Exclusive Etched Glass Designs


Sauna Design
Etched Glass
Positive Image


Sauna Design
Etched Glass
Negative Image


Rustic Sauna
Etched Glass
Positive Image


Rustic Sauna
Etched Glass
Negative Image


Obscure Glass
Totally Frosted
For Privacy
Our Custom glass door designs are hand etched by an artist. Each is a Unique piece of artwork, no two designs are exactly the same.


Scenic Design
Etched Glass
Multnomah
Falls Image


Scenic Design
Etched Glass
Mt. Hood Image


Scenic Design
Etched Glass
Lighthouse Image


Scenic Design
Etched Glass
Sailboat Image


Finnish Tinted All Glass Door. Right Hindge 3 1/2" Jamb Needs RO of
27 1/2" x 82 1/2"

Left Hindge
While standing outside of the sauna faceing the door, the hindges are on your left.
Right Hindge
While standing outside of the sauna facing the door. The hindges are on your right.
Add a work of art to your Sauna with Finlandia's Exclusive Etched Sauna Doors!
FINLANDIA Sauna Wood Doors are manufactured from the highest quality vertical grain Douglas Fir available from the Pacific Northwest. Engineered door stiles and solid rails insure long term stability. All of our wood doors are fitted with hermetically sealed, tempered, ½" insulated glass, which provides superior insulation and heat retention.
Standard Doors
Our standard FINLANDIA Sauna door is 24" x 80" and is fitted with clear insulated glass measuring 16" x 60". Standard rough opening (RO) is 26" x 82". Standard jamb is made of Hemlock with jamb width of 4 3/4". Larger jambs can be made to order. All doors available with left or right hinge. See below for important ordering information.
Exclusive Etched Glass Options
Our exclusive glass options have been custom designed and etched by an artist. When ordering this option, you have a choice of two unique Sauna designs in positive or negative image, a choice of our beautiful Scenic Designs: Mt. Hood, Multnomah Falls, Liberty, Lighthouse, or Sailboat image. Artwork is sealed inside the insulated glass unit so that etchings are protected from smudging or scratching. Etchings are available for the 24" door size only but some custom sizes may be special ordered.
Back to Top ↑
---
Sauna Benches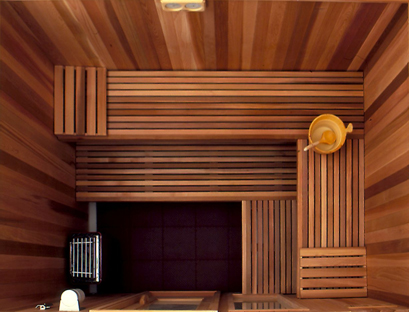 Finlandia Builds Better Benches
There's no comparison! Our benches have the greatest strength and durability and are made from the finest materials.
Finlandia's standard benches are preconstructed for strength and durability out of 2" x 2" tops with 3/8" spacing and 2" x 4" facing. Others use 1" x 3" or 1" x 4" bench tops and some do not even pre-build their benches, but provide a pile of boards with a "How to build" plan.
Finlandia's 2" x 2" Bench Tops
Competitor's 1" x 4" Bench Tops
Fastening Ability:
1-3/8" penetration for greatest strength and durability.
Minimal – only 5/8" penetration
Tendency to Cup:
None
Moderate – elevates with flat grain.
Water Retention:
(Perspiration)
Virtually none - narrow tops will not retain perspiration.
High – due to width of boards and tendency to cup.
Vertical Grain:
Always
Occasionally
Air circulation:
Excellent – narrower boards allow greater air circulation and less water retention.
Less due to the width of the boards.
Advantages:
Greater durability, better holding strength, neater look, and no slivers. Fastened from the bottom leaving no exposed metal to burn bather.
All advantages are to the manufacturer. Cheaper to make, lower cost of materials, takes less time to manufacturer.
Disadvantages:
None for the purchaser. Better materials, higher costs for manufacturer.
Questionable durability, will not support heavy weight, tends to sag with use, high tendency for flat grain boards to cup and splinter. Less air circulation.
Maximum Load Strength
902# sq. in. (S45 Western Red Cedar tested by Louisiana Pacific Lab)
605# sq. in. (S45 Western Red Cedar tested by Louisiana Pacific Lab)
Back to Top ↑
---
Finlandia Sets the Standard for Saunas...
Finlandia's Flooring Is Superior
Finlandia uses sanitary Super Dek flooring as standard. We also offer Eurodek flexible slatted flooring. Unlike wood slats, it is easy to remove and clean. Wood slats are awkward and heavy so they are seldom removed and the floor underneath becomes an odor and bacteria collector. Super Dek and Eurodek are especially superior for commercial use.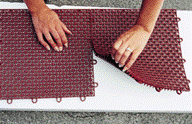 FINLANDIA'S SUPER DEK FLOORING
Sanitary
Comfortable for walking
Durable
Flexible
Does not stain or discolor
Resists odor & bacteria
Water runs through
Lightweight
Easy to remove for cleaning
Easy to install-snaps together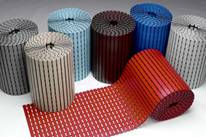 FINLANDIA's EURODEK FLOORING
Flexible – 5/16" thickness
Sanitary & Odorless
Comfortable to walk on
Easy Installation
Lightweight, easy to pick up for cleaning
Withstands temperatures from -58º to 302º F
Choice of several designer colors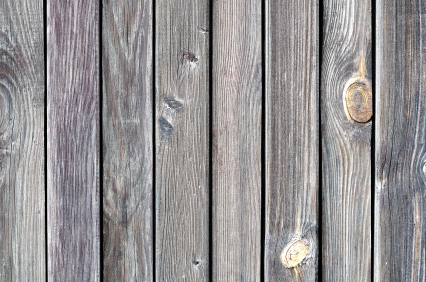 COMPETITOR'S FLOORING
Unsanitary
Stains & discolors
Absorbs perspiration and odors
Rigid-rocks on uneven floor
Heavy and clumsy to remove for cleaning
Breakable
Fasteners corrode
Hard to clean
---
Finlandia's Paneling Exceeds The Industry's Standards
Finlandia's 1"x 4" T&G paneling makes a difference!
Unlike our competitors, we advertise our wood thickness and we deliver what we advertise. We exceed the industry's standard of ½"x 4"-we have used 1"x 4" since 1964.
---
FINLANDIA'S 1"x 4" BOARD
has a small v joint pattern. The 3/32" v joint gives a neat appearance and allows the larger shoulder to hide nails or fasteners. The ¼" tongue allows fastening without splitting. Our 1"x 4" board has the highest R value, greatest heat retention, and does not require plywood backing for added strength. Our material is 50% to 100% vertical grain. Maximum load strength 572# sq. in. (T & G Western Red Cedar tested by Louisiana Pacific Lab).
COMPETITOR'S 5/8"x 4" BOARD
has a profile pattern which is common in knotty spruce European Saunas. Boards must be undercut with grooves to help prevent cupping and warping. This pattern leaves a valley between boards which cannot hide nails-there is also lower R value. Boards are almost 100% flat grain.
COMPETITOR'S ½"x 4" BOARD
has a reverse v pattern (v on both sides) which creates a small 1/8" tongue. The small shoulder will not easily hide nails or fasteners and the tongue and shoulder can split when nailing. The thinner board has a lower R value and natural shrinkage at the groove will allow some heat loss. ½"x 4" boards can be flat or wide grain with some vertical grain and should be backed with plywood for additional strength and R value. Maximum load strength 341# sq. in. (T & G Western red cedar tested by Louisiana Pacific Lab).
Back to Top ↑